Maskne
Looks like we're in it for the long haul…mask wearing that is. And while we're doing the responsible thing by protecting the next from our potentially Covid-laced germs, we're also paying the price by suffering from maskne: Acne breakouts caused by keeping your skin under wraps, a term that was recently added to the Urban Dictionary.  
In dermatology parlance this phenomenon is called acne mechanica, which is a physical type of breakout that results from excessive heat, friction, rubbing and more and creates whiteheads and pore clogging acne on the  bridge of the nose, chin and cheeks . Try products from WLDKAT, Skinceuticals, Bliss, Clarisonic and Touchland to help offset the ill effects of all that mask wearing.  
The Buzz
SkinCeuticals Gentle Cleanser is a sulfate-free creamy, mild cleanser formulated that combines allantoin, glycerin, and orange oil to restore and soften skin. This non-foaming formula  efficiently removes impurities and long-wear face and eye makeup without leaving traces of residue. Perfect for in-office treatments and at-home cosmeceutical use. 
Price: $35
Availability: SkinCeuticals.com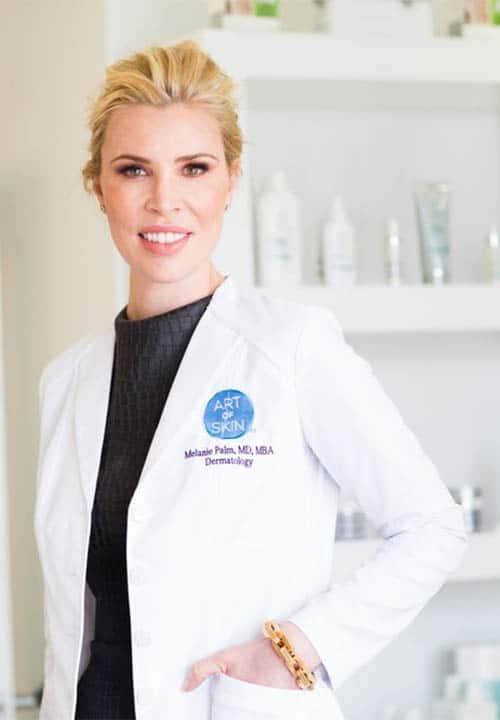 The Clarisonic Mia Prima Acne Solution Set cleanses away acne 300 times per second.  This acne clearing tool is engineered to clear away pore-clogging impurities and is clinically proven to reduce acne in just 3 days. The set will cleanse away breakouts, help prevent new acne blemishes, and has extra bristles for gentle action on acneic skin. Dermatologist tested for gentleness for all ages, genders, skin types and skin tones. The bundle comes with a Mia Prima Cleansing Device, Daily Radiance Brush Head, NEW Acne Cleansing Brush Head.
Board-certified dermatologist and cosmetic surgeon, Dr. Melanie Palm says, "Hard times call for effective cleansing routines, whether it is our hands or our face.  Cleansing with hands or a washcloth just doesn't cut it.  You need a more effective tool that allows for cleansing in the acne-prone nooks and crannies like the corner of the nose or chin."
Price: $54.50
Availability: Clarisonic.com
Formulated with 10% glycolic acid, gentle yet effective Bliss That's Incredi-Peel Spa-Strength Glycolic Resurfacing Pads target fine lines, discoloration, and imperfections for smoother and brighter skin. Skin is noticeably improved in just one use.  
Price: $24
Availability: target.com, ulta.com
Hydrate your skin with a moisturizer that doesn't weigh you down. WLDKAT Mushroom + Moss CBD Gel Cream is a quick-abosrbing gel cream loaded with broad spectrum CBD, mushroom extract, hyaluronic acid, and MossCellTec™ that helps skin adapt to environmental change, hold moisture, and control oil production for a supple glow. Ph-balanced.
Price: $29
Availability: wldkat.com
Cosmetic board certified dermatologist, Dr. Dendy Engelman says that as masks slip and slide, before you make any adjustments, avoid  transferring bacteria by using sanitizer regularly while out. Keep your hands clean with Touchland Power Mist Hand Sanitizer, which is a moisturizing hand sanitizer packaged in a sleek, modern container with a pulverizer spray system.
The fast-evaporating formula is evenly distributed across your hands to kill 99.99% of harmful, illness-causing germs while the moisturizing ingredients help your skin feel hydrated all day long. Triclosan and cruelty free. Available in Aloe Vera, Citrus, Watermelon, Vanilla Cinnamon, Neutral, Mint, Forest Berry and Lavender scents.
Price: $12
Availability: touchland.com
The Quarantine 15 Workout Essentials